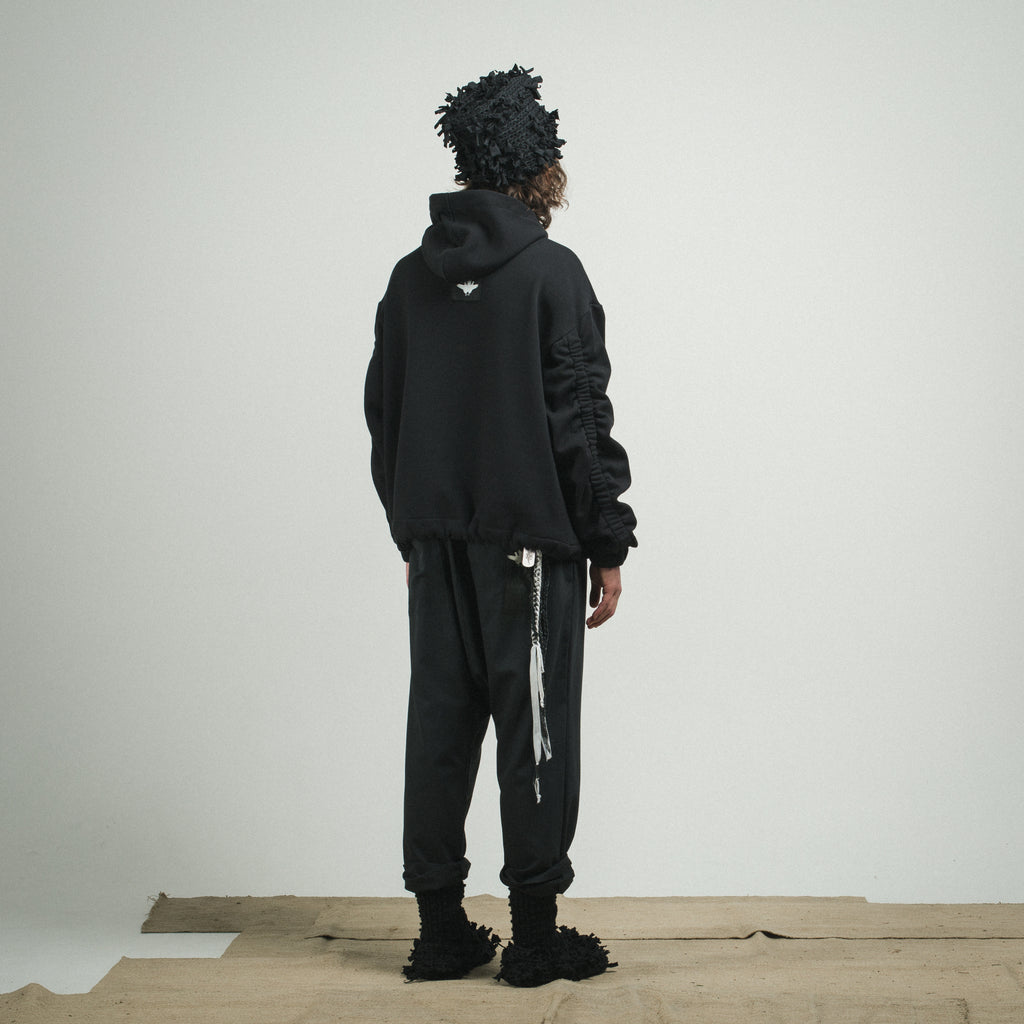 AW22 DISTILLED DARKNESS
' The ground is dense with frost, the black earth unyielding to your footsteps. Bare trees stand tall, roots running deep beneath. The cold creeps up your skin, wind tearing into your coat. The land shivers with you. '
The AW22 collection DISTILLED DARKNESS solidifies the essence of ZSIGMOND drawing the shape and shadows of its wearer. The collection takes inspiration from the countryside depicted inThe Turin Horse, a black-and-white, philosophical drama directed by Béla Tarr. The film's theme of fading to black is apparent in the bleak tones of the collection: despair is an ever-present hue in the scenery of rural winters – pure, impartial, unbending. The dark tones of the collection are shot through with slivers of dark humour and fresh, acidic green hues. The colours of rural winter define the collection: black earth, patches of green crop on freshly sown fields and bare branches shining dark in the morning frost. White, hand-painted details take us inside rural homes evoking the fresh, textured look of whitewashed walls.
The signature angular shapes are accompanied by new silhouettes. Practicality, design and heritage meet in thick ribbons, a recurring element in the collection. The adjustable ribbons give versatility to the pieces allowing them to be worn in various ways with different lengths and silhouettes. The raw end of the ribbons and braided cotton cords are a take on trappings that play a significant role in rural life, as well as in the equine themes of the inspiration. The shirts and coats with high-cut backs can be worn open for a flowy effect or closed with snap-buttons for a more grounded look. The collection is made up of the highest quality materials sourced from qualified European manufacturers: organic cotton; recycled PE; recycled wool; patented recycled thindown; organic Elb wool; zip pullers and buttons made from ethically collected horn. Pieces are tailored with hem facings, utilising an old dressmaking technique used to enhance the longevity of garments.
The REMADE garments are crafted from rare, decades-old fabrics found in Northern Hungary. The amorphous, duvet-like winter coat and boxy vest are made from a thick, warm wool fabric that was originally worn as a shawl in place of winter coats. The vibrant, handmade tie dye pattern is an exceptionally rare design making each piece one-of-a-kind. The quintessentially ZSIGMOND, bomber-style jackets and the very first REMADE shirts and pants are made from embroidered fabrics initially used in skirts and aprons. Each embroidery is a different take on a floral pattern playing with unusual colour combinations, geometric shapes, prickly plant motifs and black-on-black threads. The unexpected pieces are leading the way to a heritage redefined.
Perhaps you've never been there, perhaps you remember. But now you are in the land of the past, the land of the future.
/
photo _ Péter Lestár
hair _ Mátyás Lukács
MUA _ Bori Illényi-Hazi
model _ Csongor _ Icon Model Management
creative concept _ Finecut
creative writing _ Krisztina Tar