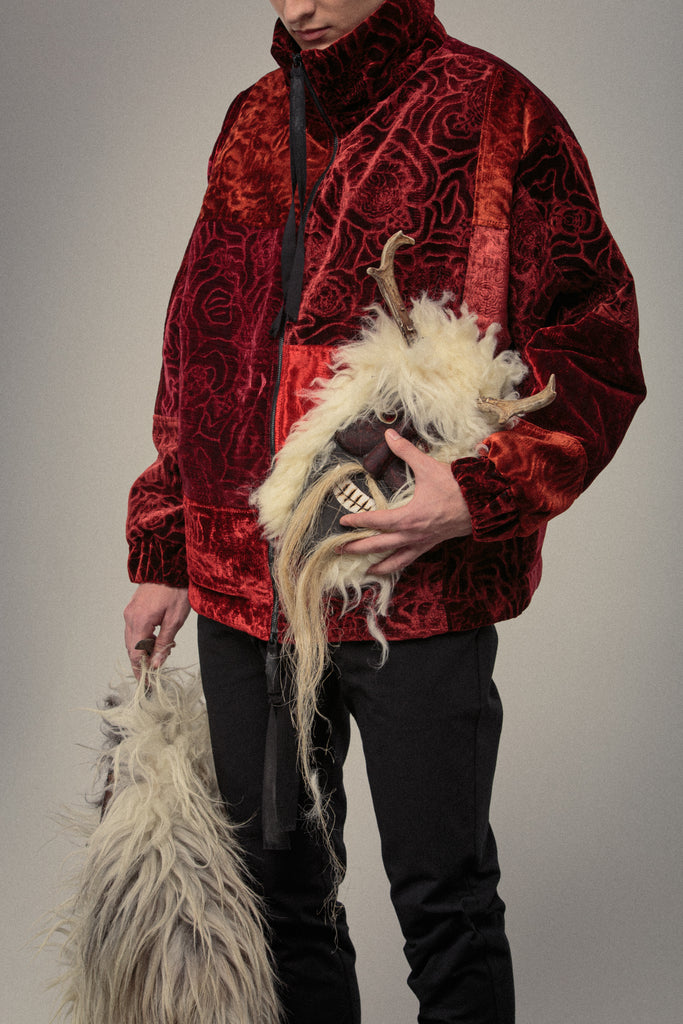 AW23 CREATURES OF FIRE
An hommage to rural rituals, CREATURES OF FIRE goes beyond the dark figures, wooden masks, immense furs and blazing bonfires: calling on ancient instincts, it is a celebration of the dissociative voyage through a world unburdened by the self-inflicted constraints of society.
ABOUT THE COLLECTION 
ZSIGMOND's AW23 collection is inspired by the annual tradition of Busójárás held in the small town of Mohács, Hungary. The six-day-long rituals dating back hundreds of years bring the community together to chase away winter and evil spirits. CREATURES OF FIRE takes its visual cues from the enormous silhouettes of the masquerading monstrous beings that grow only larger as the day seeps into darkness, lit by the sky-high flames of bonfires.
The colours of the garments evoke the fire glowing red-hot in the dark with its dozens of shades swaying in the black of the night. Red pepper and terra tones are tempered with fresh quince, smoke green and soothing moss against a backdrop of pitch-black coal.
The designs evoke the feeling of an all-enveloping, cocoon-like embrace both with their shapes and heavy-weight fabric choices. Frayed details, loose threads and swirling, textured hand-painted motifs run through the collection. 
The gradually expanding REMADE line welcomes new, hybrid pieces that incorporate 50 to 100-year-old vintage fabrics in inserts on coats, pants and shirts, and detachable sleeves. A new style of winter jacket brings a traditional fabric to the forefront: traditionally called 'oiled kerchieves', these 60 to 70-year-old fabrics are well-preserved due to their original treatment with eggwhites that gave them a slight water-repellent quality.  REMADE vests are made from warm, knitted and woven wool-mix beliner shawls of various patterns. 
PATTERN DESIGN
Bespoke patterns are designed by Áron Dimén, a Hungarian artist and tattooist, whose unapologetic approach brings the dark elements that define these rural rituals to life. The four original prints of the collection manifest characteristics of the carnival tradition with masked Busó heads, bonfires and wooden maces. 
The designs are either meticulously embroidered onto the garments or screen-printed in a Budapest-based workshop using eco-conscious dye and leaving a scattering of negative spaces to create a visually engaging effect.
RACKA SHEARLING 
The purest manifestation of the inspiration of Busójárás is in the form of the Racka shearling pieces, which are not only reminiscent of traditional Busó costumes with their large enveloping shapes but are made from the same material, as well. Using what we already have in the world to create something new, these garments repurpose old Racka shearling coats that have not been dyed or chemically processed, making the pieces coarser and more animalistic in style, while also being kinder to nature. 
RACKA RE-WOOL 
Looking ahead into the future, ZSIGMOND is experimenting with fabric innovation. RACKA RE-WOOL is our attempt at creating padding out of the byproduct of Racka shearling coat production. The waste is created when cutting each thread to the same length, resulting in a byproduct that is currently being destroyed. Our first RE-WOOL piece is a statement of the endeavour ZSIGMOND has set out to pursue.
CREDITS
photo: Péter Lestár
creative concept: Dóra Zsigmond
models: Bence at Icon Model Management I Balázs at Icon Model Management I Gábor Hutvágner I Raphael at Avantage Models I Áron at Avantage Models I Áron Dimén | László Cserjési I Tamás Kosztolányi I Tamás Péch
hair: Andris Bálint
makeup: Bori Illényi-Házi
vegetation: György Zsigmond _ Finecut
creative writing: Krisztina Tar
graphic design: Henrietta Hauer
All masks and accessories are original Busó masks and traditional accessories from the town of Mohács.