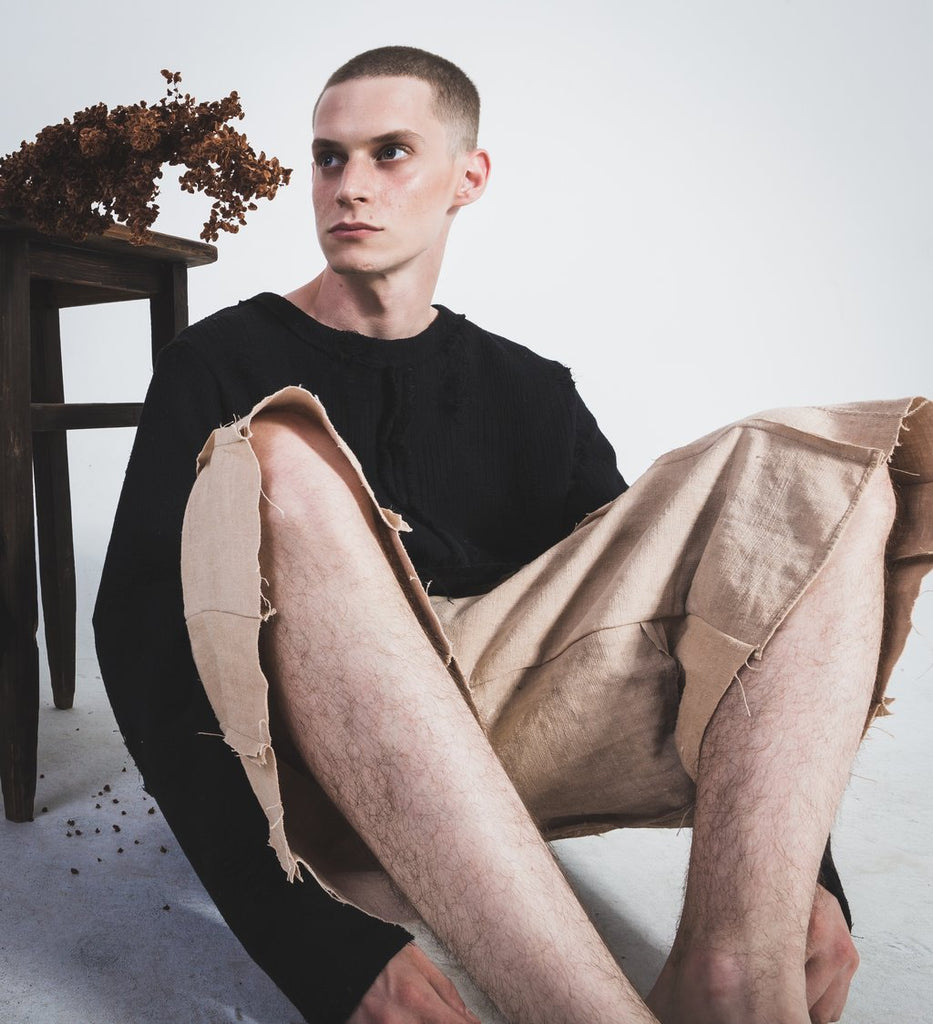 SS18 Enrobed Look book
Each year, the designer centers her collection around a traditional artisan technique. She used traditional knotting and embroidery techniques in her previous collections. This year she dyed garments made of sackcloth with a brine made of raw and dried walnut leaves and hulls. Loose trousers and robe-like jackets are key pieces of the collection.
The fraying, unfinished edges of coarse-wefted shirts and tops, the randomly placed patch overlays reference the austerity of flour sacks. This solemnity is dissolved by the playful, hidden details, such as unusual placement of zippers and tie closures, through which the wearer can build a personal relationship with the garments.
The message 'INHALE THE PAST _ EXHALE THE FUTURE' screen-printed along the center back of a pair of jackets is in line with the core philosophy of the brand: trendsetting renewal becomes relevant through the language of archaic cultures.
What's in your bag? What's important for you? This has been the fundamental question for the designer while creating the collection. Not only at the theoretical level, but also at the level of raw materials, since the fabrics used in the garments were made decades ago and purchased from country estates. These old cotton canvases of varying widths were home woven and have not been used before. Dora freshened the fabrics with a plant dye made of raw and dried walnut leaves. A video shows the dyeing process. The two resulting colors, raw sand and khaki green, provide the subtle shades of the collection, which were assembled into a patchwork, resembling haphazard parcels of small fields typical of terraced farmscape. The trousers and tops made of this fabric summon the overall look of military camouflage.
Other textiles, such as the water-repellant material used in the hooded jacket, add modern functionality to
traditional features.
The multitude of trousers with various tailoring details are a result of unique product development and provide
fresh, dynamic wearing experience to the wearer.
-
photo credits
photo _ Peter Lestar 
MUA _ Rozita Tóth
model _ Benji_ Badass Models I model _ Domonkos _ SAM The Agency
vegetation _ Finecut