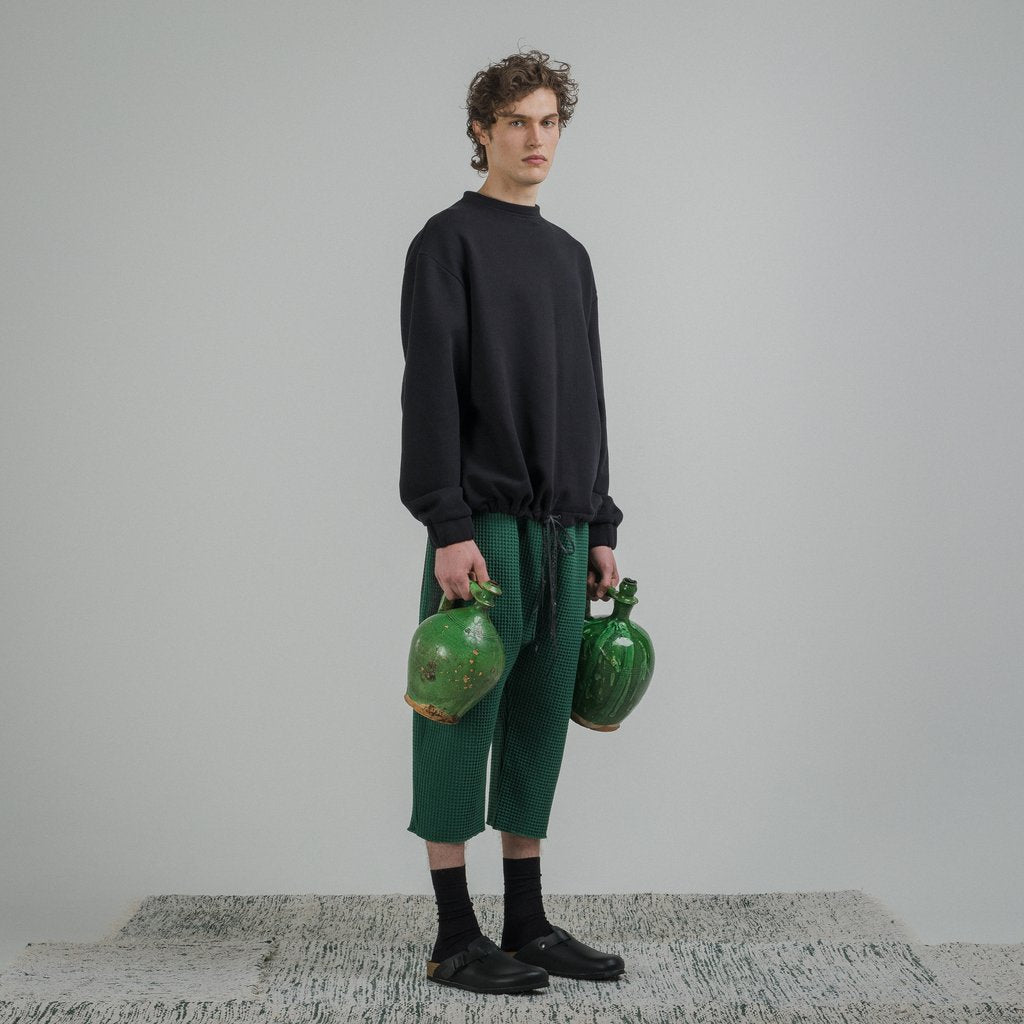 SS22 UNRIPE look book
In bursting green surroundings, a curious sensation takes hold: we feel unripe in a world ripe for the taking. Longing to belong, we start afresh, but every so often, we look back.

UNRIPE, the SS22 collection is inspired by the manor farms of 19th century Hungary, an era characterized by the agricultural environment and interdependent relationship of peasants and lords. Captivated by rare photographs from the time period, the designer Dora drew inspiration from the everyday life of peasants and their all-encompassing connection to each other and the land. A bond marked by ambivalence and ambiguity: where oppression is interlaced with protection and reliance, neither can exist without the other. And underneath it all, there remains a legacy of collective unity, a force as unyielding as the past.  
Flourishing green hues and organic linen shirts bring back motifs of nature and workers on the farmland finding ways to connect through stories and songs. Raised-threaded honeycomb fabrics offer a modern interpretation of the labor intensive, handwoven textiles of old, as a tribute to heritage garment making techniques. Eco-friendly screen-printed patterns draw parallels between people and nature: the resting bird, the wood grain marks, the folklore motif of an eagle striking a rabbit are all enclosed in a circle – a circle of life.
Relaxed t-shirts, jumpers, shorts and baggy pants recall the buoyant ease of workwear. A modern suit jacket offers a 21st century take on the ubiquitous everyday item from peasant wardrobes.
Urban designs carry fragments of the past through small, characteristic details. The strength of ox carts moving through rural landscapes manifest in unique buttons and zip pullers made of horn. Every piece is made-to-order by a small, family-owned manufactury in Italy, making every item unique to its wearer. Braided, waxed cotton cords and gesture-like strokes of paint add further handmade details to the garments. As a final touch to the collection, scarves reminisce of the kerchiefs worn by workers tied into a knot around the neck. Made with a nature-sensitive approach throughout the production cycle, the collection uses organic cotton and recycled PE fabrics.
The new items in the REMADE collection further explore the rich contrast of the decades-old, rural tapestries and the laidback shapes of urban jackets and jumpers. The handwoven fabrics paint a vivid image of opulent nature with ornate floral prints and applique.
Rushing through life decades and hundreds of years later, our surroundings might blur in a hurried haze, but the heritage of community lives on in our collective consciousness.
/
photo _ Peter Lestar
hair _ Virag Vegh
MUA _ Bori Illenyi-Hazi
model _ Marci _ Icon Model Management
creative concept _ Finecut
creative writing _ Krisztina Tar